Parkunload allows adding a first vehicle during the registration process, but allows registering multiple vehicles associated to the user account.
Add or Edit vehicle
Press the "Vehicles" button and click "New" to add more than one vehicle. To edit vehicle data, click on the pencil icon.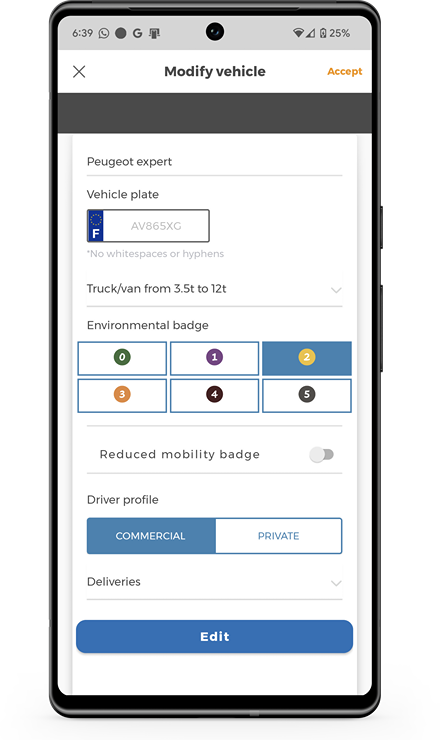 The following information is displayed on the vehicle data form:
Photograph of the vehicle (optional), to avoid errors in the selection of the vehicle.
Make and model for easy identification.
Country and License Plate, in duplicate when creating the vehicle. It cannot be edited later.
Type of vehicle:

Van up to 3,5t.
Truck from 3,5t to 12t.
Heavy truck.
Light Commercial Vehicle.
Car.

Vehicle emissions label, according to the country's regulation.
Driver's profile:

Professional / Sector.
Private.
People with Reduced Mobility (PRM).
Note that vehicle photography is optional and requires additional permissions to access the multimedia functions of the cell phone in order to capture and edit an image of the vehicle. In no case are the images on the mobile device accessed.
Some cities may regulate parking conditions based on the emissions label, such as in Low Emission Zones (LEZ) or during pollution episodes.
Delete vehicle
To delete a vehicle, click on "Vehicles" and then on the "Trash" icon of the vehicle to be deleted, which must be confirmed with a dialog box.
Note that there must always be a vehicle in the user account.